---
2022 - The tree still seemed unbalanced on top so the last top long limb was cut off, plus a lot of tangle and crossed branches. It looks much better and was thick with blossoms the first of June.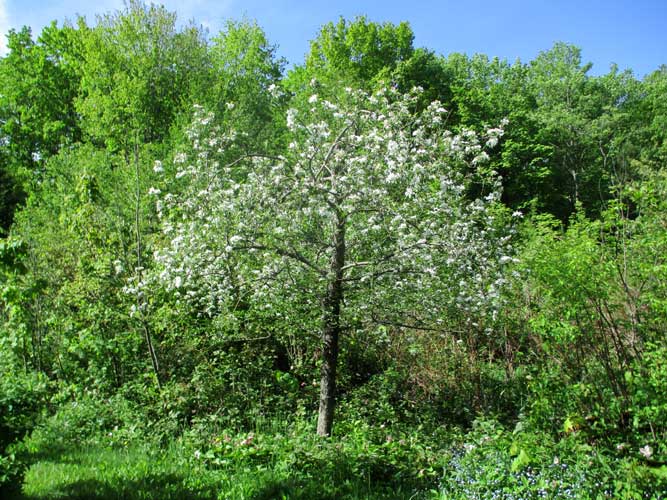 Checked with Solar Pathfinder - tree has full sun all season except just 7 hrs in September. In a good spot! Fruit set was light this year, fruit not as good as previous but didn't hear any complaints from wild critters! All fruit drops cleaned up.
---
202

1 - I decided to take off that top large overhanging limb, plus a large side limb growing straight up, bringing the tree into a better balance, and making it easier to manage. Plus I cut out a lot of stuff growing straight up and straight down. It is finally not as tangly. It blossomed with enthusiasm and in spite of the big freeze managed to put out a light crop. Mid September the fruit had good flavor and brown seeds. Though small compared to regular apples, in this year of very small harvests I decided to make use of Mr C's generous crop. It wasn't real easy to get the ladder in there (I don't cut the undergrowth) but to my surprise I ended up with 27# of really nice fruit -- three pecks full! I left the smalls and those up high for the critters. I'm sure they will appreciate them as much as we did, since it is a light crop year for them, too.

I made sauce, mixing with other apples, and we ate a lot fresh. We really enjoyed them fresh -- easy to eat, tender, juicy and tasty. They aren't a long keeper, losing flavor by mid October. They were OK as sauce but did need a generous amount of sugar and cinnamon. I think they might be a real good cider apple.
---
2020 - 5/11 cut top off, maybe 1/4 to 1/3 of tree, above large limb that hangs over drive. Plus some other minimal pruning. Looks unbalanced now. May decide to cut that large limb off but not for several years. See how it does.
Light set of apples, mostly yellow and smaller than last year's nice fruit. but tree did OK.
---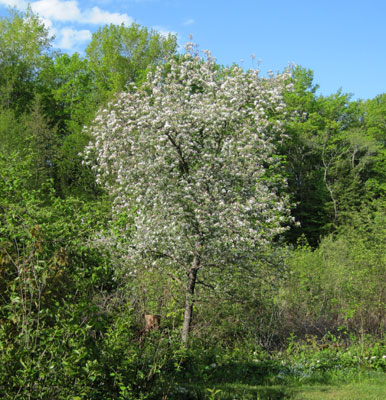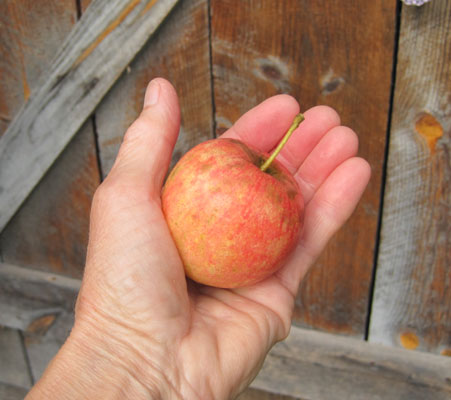 2019 - May 14 I cut off some watersprouts and uprights. For now leaving it large except for occasional pruning of crossed branches. September 28 there was a large crop with some really nice "lunchbox" sized apples. To my surprise they were very tasty! They dropped regularly for the wildlife.
---
2018 - Pruned one large limb and some uprights, trying to keep somewhat less tangled. Off year for fruit, just a few. Ate one late and found it better tasting than I thought - 2" tart but flavorful, lt has red blushed stripes on yellow (previous years have been mostly yellow). Good growing year (long hot summer).
---
2017 - Pruned for air and ease the tangle, removed one large limb and some uprights. Full of blossoms. Mid Sept dropping many apples. Yellow green w/ red blush, about 1 1/2". Dry, juicy, tart/sweet, like small Splitter fruits. Later apples riper. Deer cleaning up every night. Real nice crab.
---
Copyright © Susan Robishaw