Wild seedling tree, south of shop, east of Bulero. Named after our wonderful cat Lillibulero (named after the English tune of that name). Medium size tree tree. Small-med red splashed green, somewhat tart apples. First notes of apples harvested in applesauce 2013, "large basket apples from se shop tree, cooked & victorio". Started pruning. Apples most years are not very good so starting grafting better varieties to tree. Plan to make it 1/3 each Zestar, Discover, and Cowgate (a wild seedling tree from up the road).
---
---
2021 - A lot of pruning, clearing spaces, opening up around grafts, bringing top down and in. Working toward future replacement of original tree with the three grafted varieties.
Discovery - grafts growing slower but doing fine. Tried a direct graft but it didn't take.
Zestar - growing fine. Direct grafted another branch.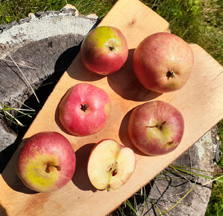 Cowgate - grafts growing vigorously, large enough to pull some branches down and do some pruning.
Mother tree fruited well and was dropping a lot of fruit mid August (maybe I should rename Cowgate to Early Cow!). I was able to pick about 1 1/2 pecks (not easy since the tree is in the bottom of a ditch). Fruit mixed maturity, soft to firm. Not real sweet but OK, macintosh flavor, mixed shapes & sizes. White flesh, rather coarse, quickly browns. I'm wondering now why I thought this was worth grafting! But maybe it doesn't like this unusually hot year.
---
2020 - 5/3 pruned out a lot, working toward grafts replacing original. Sawed off top trunk/limb. Fruit once again poorly. Tree is healthy enough.
---
2019 - 4/30 cut off top limbs & others, cleared around grafts + planning future. July - fruit set in clumps like crabs. Thinned what I could reach from ground. Fruit not good, split, rough.
Zestar grew enough to cut top & graft nearby (graft broke off later).
CowGate long growth - cut piece and direct graft more/less East - didn't thrive, cutoff. Orig OK.
Discovery2 new graft nw, grew fine.
---
2018 - Light pruning early. End July pruned out quite a few branches around grafts plus uprights. Some fruit, rough, lot of splitting, rough skin, med-small, not usable. Good growth on tree; many uprights will need pruning next year. Eventually let grafted varieties replace top of tree, leaving bottom branches for deer.
CowGate '17 graft - grew well, strong 24" shoot.
Zestar '17 graft - small growth 6" tip + several buds. Healthy.
---
2017 - Summer light pruning for shape. 6-2 blossoms opening (with BlOx, Beacon). Med/light blooms. Light fruit set; thinned some. med-sm fruit, some cracking but good enough sauce apples. End Aug/early Sept. A few left mid Sept. Leaves somewhat rough, blight, aphids but good dark color, healthy. Re-access fruit quality next year, whether to graft over most of tree or not. Tree is nice shape.
Grafted Zestar (from Marie, GF) and CowGate (road apple on e side Fox Rd by pasture gate). Both popped but not a lot of growth. Rough year for most trees. Graft another next year.
---
2016 - cut out a lot of trees south & around so now more in sun. Pruned quite a bit to open & narrow top. Looks good. Moderate blossom, light crop med-small fruit. A bit rough but OK, rather sour.
---
2015 - more pruning for shape, height and some thinning. Light blossoms.
---
2014 - applesauce 9/15, 18# sm-med most from wild clothesline tree. small, Peck of nice apples 9/6, another 1/2 peck later. Small but good quality; typical wild sour flavor but fine with sugar for sauce.
---
2013 - First notes of apples harvested, in applesauce, "large basket apples from se shop tree, cooked & victorio". Did some pruning.
---
---
Copyright © Susan Robishaw