Small nice shaped tree east of shop by wood splitting piles (at the time I named it). In shade of large elm near south of it. Medium size apples, ripe September, keep into October, firm, tart-sweet with flavor. Deer like them! So do I. Pruning for shape, height and grafts. Real nice apple.
---
---
2021 - Moderate spring pruning, quite a few uprights plus some top. Looking good. All grafts doing fine.
---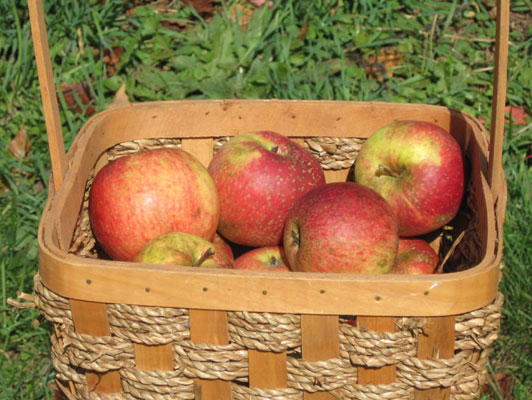 2020 - Tree doing well. Light fruit set. Picked up as they fell. By September 21 I had a small basket full, stored in the root cellar. This year it got its rightful due - as a very good fruit - by being at the right place at the right time - in the cellar when no other apple was prime for eating. October 8 I cut one up and, wow, it was very good! I'd hit it at its prime, juicy, with a nicely balanced tart-sweet (enough sweet) and very good flavor. Very good fresh eating. Apparently they do best to store awhile for best flavor. From previous years I know they don't keep long but now they have a special place as fresh eaters after Norkent and Beacon are past, and before Haralson is ready. Yay Splitter!
And yet that wasn't all. There was another apple, just one, what I've named Hoholik after the original farm family who planted (or allowed to grow) the mother tree maybe 100 yrs ago, the farm now owned by friends.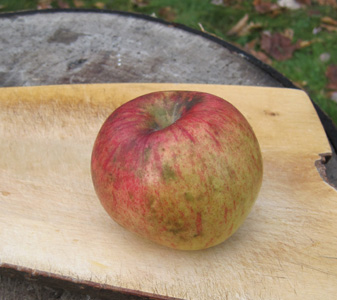 We'd gotten scions and grafted onto a rootstock in the orchard, which is growing well and healthy but hasn't fruited yet. We guess the original might be an old Golden Delicious. At the time we also put a graft on a branch of the Splitter tree and this graft produced one apple this year (and three last year). A very nice 6 oz healthy pretty apple. It was Oct. 20 and due to the many freezes we were having I decided to pick it even though it wasn't real excited about coming off. It was mature though as the seeds were ripe brown when I cut into it a week later. Quite interesting, the apple didn't look much like the original (which was a green/yellow with just an occasional blush patch), nor like last year's apples (which were closer to the original). This year's had a lot of red. It was moderately crisp, moderately juicy, moderately flavor. No Wow but a decent eater. It's possible it needs more time in storage but I won't know until I have more apples to trial. Maybe next year! The original tree unfortunately fell over (it was well past its prime) and they had to cut it down. So I'm particularly anxious for our main tree in the orchard to fruit to compare to the Splitter's graft and to what I remember of the original tree's apples.
---
2019 - 9/16 Light crop but nice. Dropping (or blown off) one or two a day. Very nice. Picked last ones 9/28 Total ~peck. Start eating mid Oct, good texture, juicy, sweeter than Dudley. Healthy fruit, healthy tree.
First apples on Nutting and Hoholik grafts (see individual variety notes).
---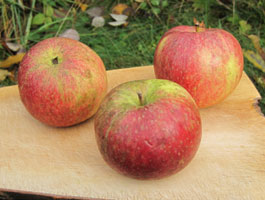 2018 - Very little pruning. Filling in, moderate growth, nice shaped tree, healthy. Light crop of very nice apples, medium size, green w/red stripe/spash, almost russet feel skin, white lenticels, tart/sweet very good flavor! Dropping early Sept, squirrels/chipmunks got some. Picked ~12. Mid Sept picked rest - 12#. Saved 6 to eat fresh, sauced rest. Early Oct getting rubbery in root cellar. Like these apples. No more grafting. Quite shaded by elm immediately south & sw.
All 3 grafts grew well, healthy, looking good. See individual variety notes.
---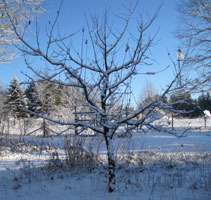 2017 - Pruned mostly low branches and bring down top. Doesn't get a lot of sun (in shade of elms) but nice shaped healthy tree. Later than rest to leaf & bloom. Light bloom 6/5. Light crop, decent med-sm tart-sour (but not as sour as Sasha & Front Yard fruit), green w/ lt red striped/blush. Dropping some mid Sept, many yet in tree. End Sept last apples drop. Later apples nice tart/sweet flavor, different than Dudley's tart/sweet. Ate last stored apple 10/30, getting slightly softer. Good flavor, texture, juicy, mildly crisp, nice eating. No more grafts; let rest of tree original.
All three graft branches had good growth, healthy.
---
2016 - Cut out significant amount to open up and shape, cut out around grafted branches. Full blossoms! Small but nice set fruit, medium size. Lot low on tree so deer got most. 2 more dropped 8/31; 2 left in tree. Last one 9/2. Good growth, some suckers.
GP - Nice growth. Pruned end & tied down more horiz. Looking good. Next year but off one side of Y.
Hoh - Nice growth. Pruned end & tied down more horiz. Good growth; healthy leaves.
Nutting Bumpus - grafted 5/20 on short branch, north side, ~5" below GP. Did well. 9" growth.
---
2015 - Doing well, pruned for shape and height.
---
2014 - Cut back & thinned top. Produced 2 apples.
GrayPearmain - Grafted 2013 on south side. All of last year's shoot winterkilled (hard winter). Two shoots grew on prev. years section (thankfully).
Hoholik - grafted May25 on east side, scion from Tammy & Joe's (old Hoholik farm) tree cut first May. Grew one shoot.
---
---
Copyright © Susan Robishaw